ESharing - Wifi Connection Devices for the University Community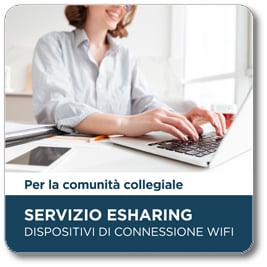 In addition to the eSharing service of technology tools, there is also the loan of wifi connection devices dedicated to the collegiate community.
The experimental service of lending of wifi connection devices for uses purely educational aimed at examinations and tests.
The service is free of charge and renewable. For information on the service please contact EDUCatt contact person of the College to which it belongs.
Please note that classes can normally be attended in the common areas if access and use is possible.
The service is part of the activities designed by EDUCatt to facilitate access to the basic technological tools necessary for study and further education and, in general, to support the user in his or her training. In this way, the Foundation provides the university community a service based on quality and attention to the needs of those who spend their days on campus.